Nguyen Hanh Phuong, a 13-year-old student in Hanoi, was named by the Vietnam Record Association, Vietkings, as the youngest Vietnamese writer to write fiction in English and release it as a bilingual English-Vietnamese series.
with his novel entitled "Star Team: A Quest for the Greatest Power".
Nguyen Hanh Phuong was named by the Vietnam Record Association, Vietkings, as Vietnam's youngest English-language fiction writer. (Photo courtesy of Nguyen Hanh Phuong)
The book series tells the story of four adventurous 12-year-old English children. They are classmates and each of them has a gift, such as reading an ancient language, navigation, sorcery and robotics.
According to Phuong, whose pseudonym is Rosy Black, she started writing the first lines of her novel in July 2019 when she was just 10 years old. She first made a rough draft to explore the story and then went through the finer details. Phuong first writes his books in English, then translates them into Vietnamese.
The Kim Dong publishing house has published the first volume of the novel, entitled "Back to the past", while the next three, "To The Future", "Up to Heaven" and "Down to Hell", will be presented to readers. in the future.
The series praises friendship, courage, solidarity and the determination to overcome challenges. With its clear and flexible expression and writing style, Phuong's book has aroused great interest among readers of the same age.
Having a passion for reading books since childhood, especially those on science and literature, Nguyen Hanh Phuong has read many books in various genres in Vietnamese and English. She is also interested in science experiments and writing.
She learned English at the age of three from her mother, an English teacher. At the age of four, she could read Vietnamese and English.
Phuong won gold and silver medals at the Asian Science and Mathematics Olympiad in Vietnam in 2020 and 2021, and won numerous scholarships at her school. She also contributes to the English teaching program on Vietnam National Television Channel 7.
In the coming times, in addition to completing the remaining three volumes of the series, Phuong plans to publish audiobooks and enter the global market.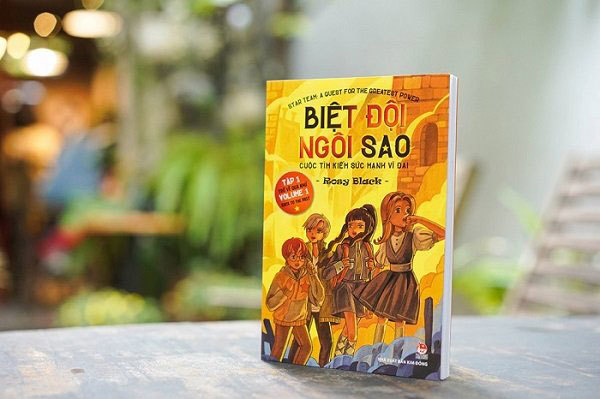 The cover of the first volume 'Back to the past'. (Photo courtesy of Nguyen Hanh Phuong)
In recent years, children's literature in Vietnam has seen many encouraging signs with the increase in the number of children's and young children's book authors.
Among them, Cao Viet Quynh, who wrote his first fantasy adventure novel, "Nguoi Sao Choi – Cuoc Chien Vong Quanh The Gioi" (Comet Man – The War Around the World), at the age of 12; Nguyen Khang Thinh, who was only 13 years old when he received the 2020 Sach Hay (Good Book) Award for his first book titled "Nhat Ky Cua Nhoc Alvin Sieu Quay" (Naughty Alvin Diary); and Cao Khai An, who won the De Men (Cricket) Desire Award for his story titled "Chuyen Cua Bap An Mo Va Xom Doi Rom" (The Story of Bap and his Hamlet Doi Rom) at the age of 11 years.
Most child authors choose fantasy literature to promote their imagination and creativity while expressing their own personality in writing.
According to the Chairman of the Vietnam Writers Association, Nguyen Quang Thieu, during this term, the association will give priority to children's literature because child authors are the future owners of literature.
He revealed that the association has a detailed plan to spark the creativity and inspiration of child authors while supporting the publication of children's books and organizing children's writing competitions to discover and encourage young people. literary talents.
Source: NDO

Nine-year-old child wins writing contest
She may only be nine years old, but young writer Bui Mai Khue is already heading down the path of "writing" in the world of literature after winning first prize in a competition.

The children's book industry needs more attention
Although there are many books for children, only a few are written by young local authors.